Miss Peregrine's Home for Peculiar Children and Hollow City by Ransom Riggs
Stars: 5/5 each
This is a double review. Books 1 and 2 of Miss Peregrine's Peculiar Children. This is also a review for
Quirk Books
. Let me start off with saying I LOVED these books. I have a thing for old photographs myself,yet haven't come across anything as peculiar as Mr. Riggs, or what people have let him borrow. It's so cool that someone finally took photos and made a unique story with them.
This peculiar story has it all, old photos,bizarre islands,loops..or time travel basically,freaks..well peculiar,and more. Follow Jacob on his quest to prove his grandfather wasn't crazy. throughout the book Jacob's dad isn't too happy with him at times. His dad mainly wanting to focus on his book, but doesn't want Jacob wandering off by himself....yet the whole reason they went to the island was for Jacob. He quickly makes friends with the peculiar children particularly Emma, his now love interest. He also learns that Miss. Peregrine who runs the school is a ymbryne. She can transform from human to bird at will.
Towards the end he has a tough decision to make. What would you do? SPOILERS....Would you stay in the past in a loop, or go back to life as it was before?
Mr. Riggs also states in the back that all the photographs are authentic. Some have been altered slightly,but if so very little. He doesn't state which ones,but I love that they're all real. My favorite one, which is one of the most creepiest is a photo of a young girl standing in from of what appears to be a pond. Yet in her reflection is 2 figures. 2 young girls.
Now on to HOLLOW CITY
In Hollow City we continue our journey right where our hero's left off. I love how there was no break, or jump in time between books, the transition was real nice. This book is also filled with loads of awesome photos. Besides our hero's being chased and practically dying around every corner,their main protector Miss. Peregrine has been stuck in bird form and they're running out of time before she will stay a bird forever.
This book had some really amazing photographs too, I would say my favorite photo from this book is the one of the folding man.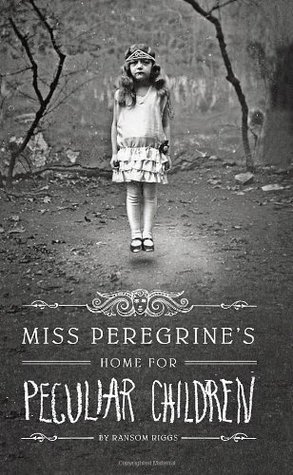 I am really excited for the third installment to be released. Also a movie adaptation is in the works. This is great news.
If you love adventure,old photographs,and anything strange or peculiar I highly suggest Miss. Peregrine's Home for Peculiar Children and it's sequel Hollow City.
Stay tuned for the third installment review